Know what the hardest part of the web design process is? The part where we have to compile content. That's why I've put together this handy-dandy web design content checklist.
This list will give you a full overview of all the content and material you need to gather to give to your web designer before they dive into the technical side of things.
It's perfect for anyone who wants to get a jumpstart on prep, so they have the most seamless web design experience.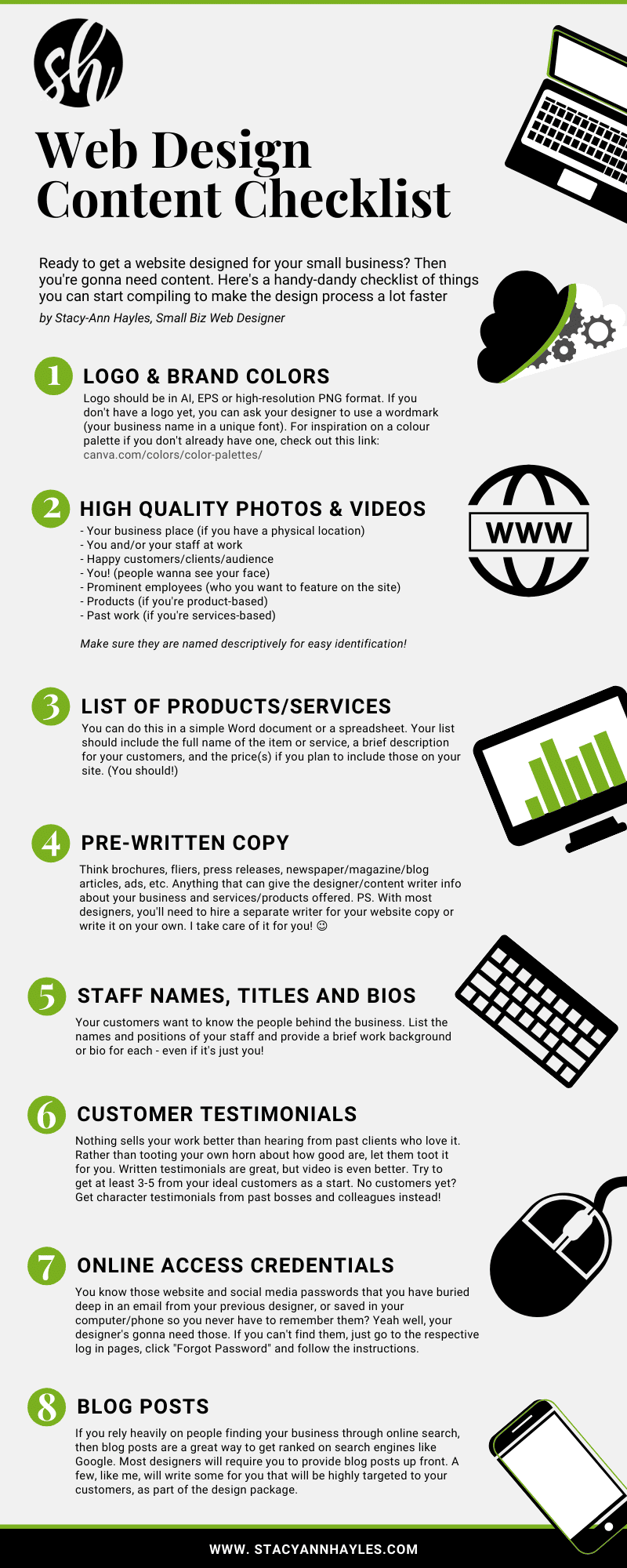 1. Logo & Brand Colours
Logo should be in AI, EPS or high-resolution PNG format. If you don't have a logo yet, you can ask your designer to use a wordmark (your business name in a unique font). For inspiration on a colour palette if you don't already have one, check out this link.
2. High Quality Photos & Videos
Your business place (if you have a physical location)
You and/or your staff at work
Happy customers/clients/audience
You! (people wanna see your face)
Prominent employees (who you want to feature on the site)
Products (if you're product-based)
Past work (if you're services-based)
Make sure they are named descriptively for easy identification!
3. List of Products & Services
You can do this in a simple Word document or a spreadsheet. Your list should include the full name of the item or service, a brief description for your customers, and the price(s) if you plan to include those on your site. (You should!)
4. Pre-Written Copy
Think brochures, fliers, press releases, newspaper/magazine/blog articles, ads, etc. Anything that can give the designer/content writer info about your business and services/products offered.
PS. With most designers, you'll need to hire a separate writer for your website copy or write it on your own. I take care of if for you! 😉
5. Staff Names, Titles and Bios
Your customers want to know the people behind the business. List the names and positions of your staff and provide a brief work background or bio for each – even if it's just you! Bonus if you provide professional photos too!
6. Customer Testimonials
Nothing sells your work better than hearing from past clients who love it. Rather than tooting your own horn about how good are, let them toot it for you. Written testimonials are great, but video is even better. Try to get at least 3-5 from your ideal customers as a start. No customers yet? Get character testimonials from past bosses and colleagues instead!
7. Online Access Credentials
You know those website and social media passwords that you have buried deep in an email from your previous designer, or saved in your computer/phone so you never have to remember them? Yeah well, your designer's gonna need those. If you can't find them, just go to the respective log in pages, click "Forgot Password" and follow the instructions.
8. Blog Posts
If you rely heavily on people finding your business through online search, then blog posts are a great way to get ranked on search engines like Google. Most designers will require you to provide blog posts up front. A few, will write some for you that will be highly targeted to your customers, as part of the design package.
Again, when you hire me, you don't have to worry about writing a thing. It's all handled for you!
Ready to get started with that website? Check out my previous work and book your free consultation call here.