As I opened up Twitter last Sunday night, I saw the flood of Golden Globes tweets pouring in. It was a momentous occasion for several reasons, but feminists were especially proud that night.
Actress Sandra Oh became the first Asian to host the show, and the first woman of Asian descent to win multiple Golden Globes. Forever bae, Regina King, in her winning speech, vowed to hire 50 percent women for her projects over the next two years, and challenged others to follow.
By these accounts, it was a great night for women.
But while America cheered and celebrated the women in show business, one young woman in an airport hotel room in Thailand was hours away from losing her life, and she was tweeting about it.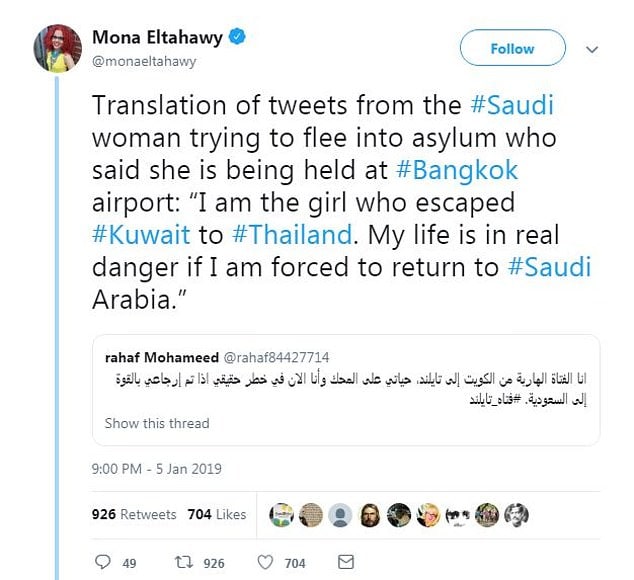 18-year-old Rahaf Al-Qunun had just escaped from the grasps of her abusive Saudi Arabian family. On a family vacation to Kuwait, Rahaf got on a plane to Australia, connecting through Bangkok, Thailand. However, upon arriving in Thailand, she was met by Thai and Saudi officials (no doubt sent by her father) who confiscated her passport and imprisoned her in a hotel room in the airport, surrounded by guards.
As one Saudi official later put it, "They should have taken her phone instead of her passport."
Being the tech-savvy teenager she is, Rahaf immediately set up a Twitter account and started sharing live updates. She was escaping her family's abuse, as a result of her denouncement of the Islamic religion, and the oppression against women in Saudi Arabia. She had planned to seek asylum in Australia, or any country that would take her, but she was being held hostage by the Thai airport officials, upon request of her father (who claimed she was mentally ill). Most critically, if she didn't get immediate help, she would be forcibly put on a plane back to Kuwait within hours, and if she was on that plane, her family would kill her as soon as she landed.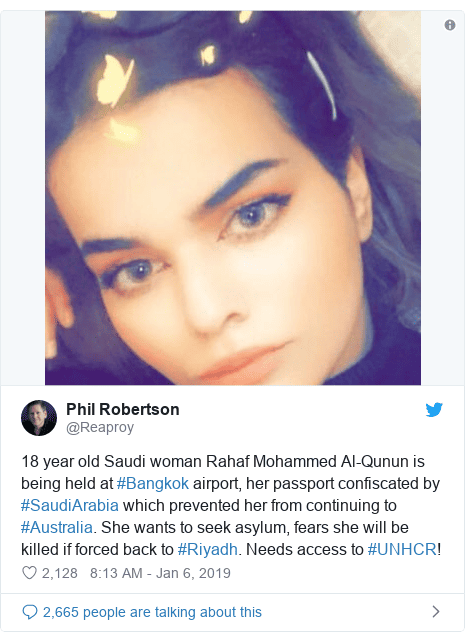 Rahaf's story is not uncommon. The Middle East, particularly Saudi Arabia, is filled with stories of women who are treated as no more than property. They cannot do anything without a male family member's approval, and they have no agency to protect themselves from abuse. They do not have the basic human rights we in the western world often take for granted.
Fortunately, Rahaf's story has a happy ending. At least so far. She barricaded herself in her room, forcing the plane to Kuwait to leave without her, and soon after, received help from the UN Refugee Agency in Thailand (who learned about her situation from her tweets). After being in their care for several days, she was finally granted asylum in Canada, where she arrived earlier today. As I write this piece on Friday afternoon, she is now tweeting her gratitude to the hundreds of thousands of people who amplified her voice and helped bring her to safety.
Yet there's no telling what the future holds for her. Her family is still chasing her, and she is receiving death threats from other Middle Easterners, who are not happy with her choice to seek freedom. And from what we have seen from the Saudi government's brutal murder of journalist, Jamal Khashoggi; the disappearance of Dina Ali Lasloom, whose story mirrored that of Rahaf's, without the happy ending; and the lack of repercussions in both cases, we know Rahaf might have to look over her shoulders for the rest of her life.
Knowing now about the plight these women face, I have a really hard time celebrating the Western world's version of feminist wins.
I know that we are diverse creatures, who can care for, and act on, multiple causes at once, but how silly does it seem to care about who's hosting the self-congratulatory rich-Hollywood distraction that is the Golden Globes, when there are thousands of women across the world who are still literally fearing for their lives? How many women have their been like Rahaf, who didn't have access to the technology or the resources she managed to acquire in 24 hours to get her to safety?
Most importantly, seeing how Rahaf's story played out – how can we leverage social media and other accessible technology to help these women get better lives, instead of being so obsessed about our own frivolous desires and gripes?
I don't have the answers yet, but I'm looking for them. I have to look. I have no choice. Because we will never truly be empowered as women, until we are all free. We are only as strong as our weakest link.